One Minute Peanut Butter Chocolate Chip Mug Cake
Jump to recipe
Hey there Pretty Little Bakers! We may have some new friends checking out this recipe! 
Hello EveryGirls, so lovely to meet you! Can't wait to join you on this journey every month through Maria's newsletter. We're going to have so much fun together and we're going to learn soooo much! 
(For those of you who may be a little confused, I'm lucky enough to be apart of Maria Menounos's monthly newsletter that she sends out to all of her subscribers! I highly encourage you to subscribe on mariamenounos.com. She shares her secrets and tips on health, fashion, finance, relationships, careers, and success. Who doesn't want to hear how to be successful straight from the horses mouth?!)
With Pretty Little Bakers, I'm here to help you create sweet desserts using minimal ingredients! My recipes aren't difficult – they're designed for anyone at any age to be able to make yummy desserts. 
Fun fact about Kellie – I'm obsessed with peanut butter and chocolate.
It was Thanksgiving night in 2012 that I discovered Reese's Peanut Butter Cups. From that point on, my life would never be the same. Not only did I basically eat my weight in Reese's that night (yes, this was AFTER Thanksgiving dinner… and it was at this point that I highly considered entering a food eating contest), but my taste buds needed more. So oftentimes, with Pretty Little Bakers, you'll see me baking something chocolatey, something peanut buttery, or even a mixture of the two. But don't worry, I don't only stick to PB/chocolate, I have lots of recipes that involve neither! We'll get to those at a later date. 😉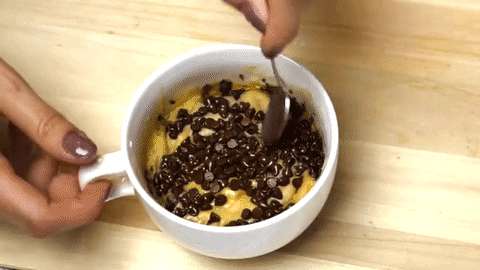 In Maria's April newsletter, I made a one minute, no bake, peanut butter chocolate chip mug cake. We're talking SIX ingredients, and most of them can probably already be found in your kitchen! We're talking milk, sugar, peanut butter – the easy stuff!
Check out my video below on how to make a one minute peanut butter chocolate chip mug cake. It's only 3.5 minutes long and will take you a max of 10 minutes to make it! 
I'd love to hear your thoughts on this recipe below. Perhaps you added in more chocolate chips or less peanut butter – hey, whatever it is, I want to hear about it! I'm all about trying new things! Let's keep the conversation going – comment on the YouTube video or comment below the recipe!
One Minute Peanut Butter Chocolate Chip Mug Cake
Ingredients
1/2 cup milk
1 tbsp sugar
1/4 tsp baking powder
4 tbsp flour
3 tbsp creamy peanut butter
3 tbsp semi-sweet chocolate chips
EQUIPMENT:
microwave safe mug
spoon
fork
Instructions
In your microwave safe mug, combine all ingredients except the chocolate chips. Using a fork, mix completely until no flour chunks remain.
Stir one third (or 1 tbsp) of chocolate chips into the batter.
Dig a little deep valley in the center of the batter and add another third (or another 1 tbsp) of chocolate chips smack dab in the center.
Cover up those chocolate chips in the center. (this way, when you dig your spoon in after the mug cake has cooled down, you'll get a bunch of chocolate chips in the center!)
Sprinkle the remaining chocolate chips on top.
Cook in the microwave for a full minute. If the batter is still gooey, cook for an additional 15 seconds.
Allow cake mug to cool for a few minutes before digging in!
Bon appetit!
https://prettylittlebakers.com/wp-content/uploads/2017/04/peanut.jpg
448
449
Pretty Little Bakers
https://prettylittlebakers.com/wp-content/uploads/2022/05/Pretty-Little-Bakers-logo-2022.png
Pretty Little Bakers
2017-04-04 10:15:46
2020-06-23 10:18:27
One Minute Peanut Butter Chocolate Chip Mug Cake